Our Pastor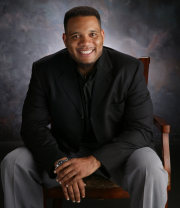 Larry M. Trice, Jr., Senior Pastor of Tabernacle of David Church is a fourth generation pastor. Born in Jackson, Michigan he is the second of four children born to Angelene L. and the late Larry M. Trice, Sr. Pastor Trice began his service to God and man at a young age, serving as the Minister of Music at Pentecostal Outreach Church of God in Christ under his father, holding that position for 17 years. An accomplished and gifted musician, Pastor Larry completed his first recording project, "Times of Refreshing", in 2005, featuring the Tabernacle Voices of Praise (TVOP).

He serves the church and community in earnest, establishing a strong reputation of integrity throughout the greater Lansing area and the state at large. As one who holds relationships in the highest esteem, his love for others is the landmark for all his endeavors. He has a heart of compassion that reaches out with hope to the hopeless.

His vision is to empower the church, community and families not only spiritually but naturally as well. He is a pastor of excellence who believes everyone can and should make every effort to function in excellence in all areas of their lives.

Pastor Larry M. Trice, Jr. is the husband of Lene'a Trice and father of LaRae, Larry M. III and Lawrence Mark.